Mechatronics issues on DSG boxes, are sometimes called the light of death and a DSG gearbox which displays as PRNDS could often be a sign that the mechatronics unit is on its way out
We have repairing gearboxes for longer than most technicians have been alive and we have now been in the DSG gearbox repair trade for years and know almost everything there is to know about these notorious DSG mechatronic faults that are all too common. If you have a problem with a DSG box, call us now on 01772 259068 and speak to someone who can help.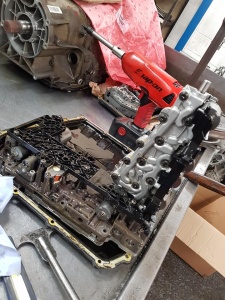 On seeing the PRNDS light flash most people perform a Google search and come back with a forum result recommending you to go to the main dealer to have a diagnostic ran, repair to the unit or complete replacement.
DO NOT DO THIS!
DSG Mechatronic faults do not have to go to main dealer and pay main dealer prices in order to be repaired, this is a myth. We are often able to repair this fault for LESS THAN HALF of the cost of a main dealer repair,! We supply brand new mechatronic units for the 6 speed and 7 speed DSG gearbox which we can fit for you here in our large well equipped workshop. No matter what make or model car you drive anything from our list below can be catered for right here from our workshop in Preston:
•Audi multi-tronic units otherwise know as Audi mechatronic units
•Volkswagen mechatronic units
•Skoda mechatronic units
•Seat mechatronic units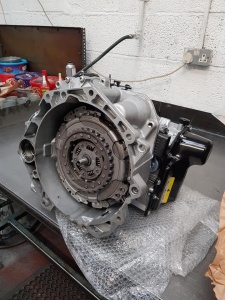 This can be a very common problem for all Volkswagen and Audi vehicle fitted with the DSG gearbox and working with these makes and models or cars on a daily basis we can say first hand its a common occurrence without much reasoning. For example when a car hits a certain age, mileage etc you begin to see tell tale points which mean items need replacing unfortunately with DSG mechatronic faults this is not the case. The problem will normally start as an intermittent issue with the "PRNDS" light flashing and the gearbox going in to the neutral position or there will be a loss of the reverse gear. Without exception, this issue will become permanent and you run the risk of causing permanent damage to the box if you allow the vehicle to be used without having it repaired.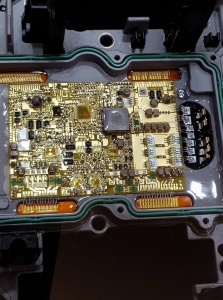 COMMON MODELS WITH DSG FAULTS
Audi A Series, including A3.
Audi S Series, including S3.
Golf GTi and GTD Series.
Seat Sports Models.
Skoda Sports Models.
Volkswagen Sports Models.
BMW 3 Series Coup, M3, Z4 (DCT Gearbox).
Citroen C-Crosser (DCS).
Ferrari California.
Ford C-Max, Focus, Galaxy, S-Max (Powershift).
Mitsubishi Evo X (SST).
Nissan GT-R.
Peugeot 4007 (DCS).
Porsche 911, Boxster, Cayman, Panamera (PDK).
Volvo C30, S40, V50 (Powershift).
Despite their robust and hard-wearing design, every kind of direct shift gearboxes can suffer damage or wear and tear. This is true for most brands including VW's DSGs, in addition to BMW's DCTs, Peugeot and Citroen's DCSs, Ford and Volvo's Powershifts, Mitsubishi's SSTs and Porsche's PDKs. Faults that we have found recently are:
Vehicle Warning Lights.
Transtronic Mechatronic Unit Failure.
Mechatronic Unit Failure.
Noisy Bearings. 
Electro-Hydraulic Control Unit Failure.
Slow to Change Gears. 
Struggling to Accelerate in Certain Gears.
Juddering and Shuddering of the vehicle in motion.